With the recent uptick in video calls, we've all gotten a glimpse into the homes of our friends, coworkers, and colleagues.  From home offices to kitchen tables, our space says a lot about us.  In this month's blog, we wanted to share the stories behind some of the items you'll see in our video call backgrounds.
I had this picture taken during one of my 19 visits to Kennedy Space Center. It was shot in front of a green screen, and my head was superimposed onto an astronaut's body. It's one of my more ridiculous pieces of space memorabilia.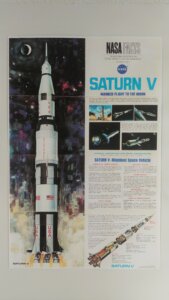 In the 1960s, NASA produced a series of posters to showcase the Saturn V rocket used to send men to the Moon.  Dubbed the "Mightiest Space Vehicle," the Saturn V is still the tallest, heaviest, and most powerful rocket ever used operationally.  I've see one in person, and its it truly awe inspiring.  This poster was a generous gift from Chris Manheim, president of Manheim Solutions, who shares my love of the early space program. It's a copy of an original that he has in his collection.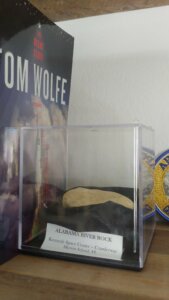 On the Kennedy Space Center tour, the bus travels alongside Crawlerway — a 130-foot-wide gravel pathway used to transport spacecraft to the launch pads using a giant vehicle called a crawler.  Every time I took the tour, I told whomever I brought with me that I really wanted a rock from Crawlerway.  It's a highly secured area, so I believed it was a pipe dream.  Then, for my birthday, a friend presented me with this which she got through a friend of a friend.  Somewhere, there's a video of me opening this and crying.
If you've talked to me at all in the last two years, you probably know that I'm on a quest to see all twelve Apollo command modules which are in museums across the country.  For each one I see, I buy the mission patch and sew it onto a space-themed jacket that is my pride and joy.  Mike Philpot, V.P. of Economic Development for Jonesboro Unlimited, generously sent me some patches that he collected as a kid.  They're on my shelf as opposed to my jacket because I haven't seen these command modules yet.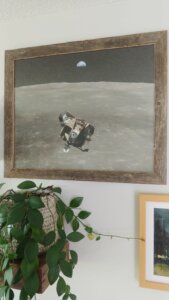 This is one of my favorite space photographs.  It was taken by Michael Collins, pilot of the Apollo 11 command module, as he watched Neil Armstrong and Buzz Aldrin ascend from the lunar surface.  With Earth in the background, Collins's  photograph captured every single human being except for one — him.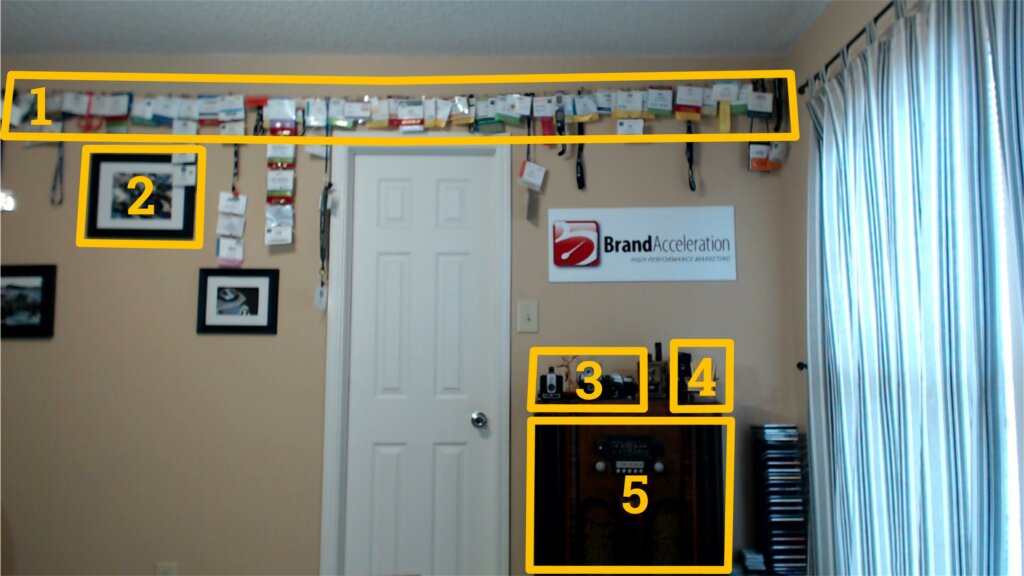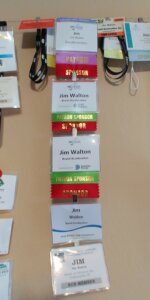 Along this cable (which stretches along two walls of my home office), I've displayed more than a hundred name badges from conferences I've attended throughout the years.  Many of my badges feature a SPEAKER ribbon of which I am very proud.
I've also hung up a few items from memorable events including the glasses I wore to view the solar eclipse during SEDC in Charlotte in 2017.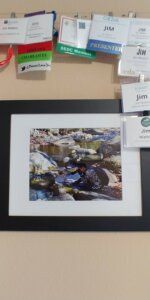 Since she was in middle school, Colleen and I have shared a love of nature photography.  We used to spend hours shooting together out in the woods.  This photo, which is one of my favorites, is from one of those trips.  It shows Colleen setting up a close-up shot at Brown County State Park in Indiana.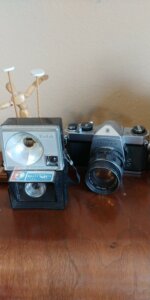 My decades-long love of photography began with this 35 mm camera, a Honeywell Pentax SP 500, purchased while I was in high school.  Next to it is my grandmother's 1964-65 World's Fair Kodak camera. These are just a few of the vintage cameras I have displayed around my home.  While I shoot almost exclusively on digital now, I'm glad I hung on to all of my old cameras.
Behind the cameras is Plate Spinner Man.  He's a representation of my crazy life in this industry.
In another life, I owned a conference and event management company.  The logo included the silhouette of an Adirondack chair.  A few years ago, Colleen got me this miniature Adirondack chair to put on my desk.  It's actually a cell phone holder, but I've never used it for that because it holds a cherished place in my office.
This is a 1940s-era Zenith three-band radio that I bought from an antique store years ago.  I spent a good portion of my early career working in radio, so this really jumped out at me.  It still works, but it definitely needs some cosmetic restoration.
We hope you enjoyed getting a look into our video backgrounds and learning a bit more about us outside of work.  What's the most interesting item in your  video background?  Post a picture on social media and tag us to share.